Visiting the Cody Mural & Museum
When you visit the Historic Cody Mural and Museum, you'll have the opportunity to see original works by local artists depicting the experience of Mormon pioneers as they survived and eventually thrived in the wilds of Wyoming.
Museum exhibits include original works by local artists as well as commissioned art pieces. We also showcase a host of historic artifacts. In our renovated museum, you will see photos of the original settlers of the area, learn about the building of the Sidon Canal and learn firsthand stories about pioneer sacrifice and faith. Guests will also enjoy seeing a seven-minute video and touch-screen displays.
Four interactive kiosks are also available for guests to explore their family histories. One of the kiosks provides access to a very popular family search program that helps people find out more about their relatives, specifically those in the Bighorn Basin.
Museum Highlights
Abraham O. Woodruff (Bronze)
Abraham O. Woodruff (1872-1904) was the main motivating force in the settlement of the Big Horn Basin. A bronze bust of him is on display.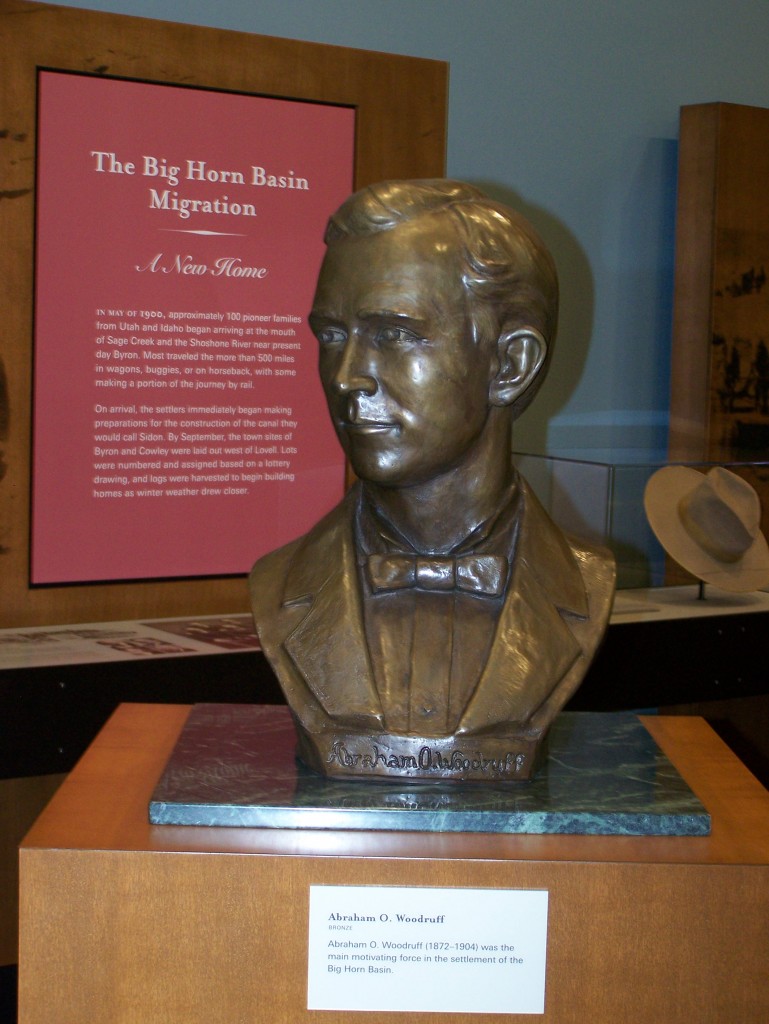 Hand-forged iron horse hobbles
Hobbles are still used today to secure a horse when no tree, post or other option is available to tie a horse and prevent it from running away. Now more often made of leather or rope, these iron hobbles were used a century ago. These are on long-term loan to the museum from the Mark N. Partridge Family.
Book of Mormon, First Edition
Translated by Joseph Smith, the Book of Mormon was first printed in March 1830 in Palmyra, N.Y., with financing provided by Martin Harris. Just 5,000 copies were created in that first printing, and this is one of the few on display in the United States. This Book of Mormon was donated to the museum by Cody residents Bud and Lucille Webster.